Ever feel like you're posting to the web, only to hear crickets in return?
You're not alone. Whether it's a social media post, blog or even just your website, it can be hard to get noticed on today's web. There are just so many other places out there!
Fortunately, in the aviation industry, we're uniquely positioned to brush away those cobwebs and truly make a splash.
How, you ask? With great aviation photography.
Aviation Photography Tips You Can Use Today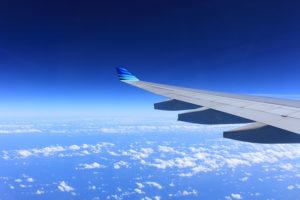 I mentioned this in last week's post on social media, but our industry lends itself to some amazing visuals – visuals that can grab attention and pique interest. Use this to your advantage, and your posts can turn into shareable, viral content in minutes.
Want to start using aviation photography to get your posts noticed? Here are some tips to get you started:
Look to the sky. If you can capture aircraft in flight, you've got the golden ticket. Take photos of aircraft flying overhead, or get shots of the planes in your next air show. These are some of the most shareable photos around!
Work in some video. Use your phone's video function, and swap static photos out for real, live footage once in a while. Capture a helicopter's propellers spinning, a plane coming in for landing or even people loading in or loading off. Get creative!
Go aerial. Next time you or a colleague is up in the air, take shots from up above, too. Get photos of the clouds, the ground below or other things you can spot out your window.
Don't be afraid to include people, too. Aviation photography isn't only about the aircraft. Work in some people as well. Capture your staff at trade shows, get shots of pilots at work, or even snap a pic of your mechanics and other team members on the ground. Give your brand personality!
Get action shots. Not every shot has to be posed. Try to get some photos of planes taking off, taxiing, doing loops mid-air and any other actions you can capture. These add visual interest and really give a photo life.
Go big or go home. Planes, helicopters and other aircraft are huge, awe-worthy things. Use that to your advantage, and capture their true size and scope. Snap a shot of a 747 on the runway, and let it take up the whole photo. Take a pic of your planes in the hangar, being sure to show just how much room they take up. People love to look at things that shock and awe them.
Use light. You can really up the ante on any photo just by using the right lighting. Take your photos against a sunrise or sunset, capture a plane right at dusk, or even snap a shot in a rainstorm or on a cloudy day. Play with lighting as much as you can to add visual interest.
Try new angles. Don't just shoot planes from head-on or directly at the side. Try some new angles, and shoot from the side, down below, up above, or any other angle you can get. Make it unique and interesting – something they've never seen before.
Need help honing your social strategy or getting your online content noticed? As an experienced aerospace marketing agency, we know how to use aviation photography to our clients' advantage. Contact us today, and we'll help you do it, too.