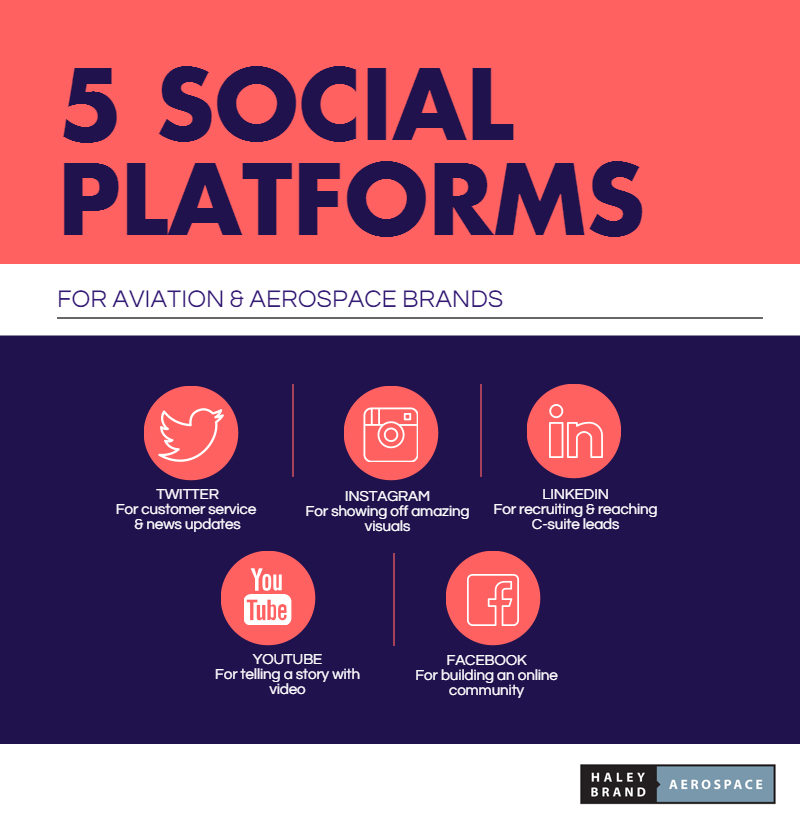 A few weeks ago, I talked about social media and its role in the aerospace and aviation industries. I even showed you how social media can best be used to your advantage.
But what didn't I cover? The platforms you should be on.
Since the advent of social media, hundreds of platforms have come and gone. MySpace is now a thing of the past, and things like Snapchat, Vine and Kik didn't even exist until a few years ago.
With the constant ebb and flow of this arena, it can often be hard to choose a venue to focus on. Sure, you could use all of them, but is that really the best, most effective use of your resources? Definitely not.
The truth is the best social media platforms depend on your business – the types of services and products you sell, your audience and your overall goals for your marketing efforts.
Not sure which social platforms should be a part of your aviation marketing campaign? Let's break them down:
Twitter – I would say Twitter is the single, most important social media platform for any aviation or aerospace brand. For one, it opens the doors for immediate communication. Customers can ask an airline a question, get parking advice from an FBO or airport, or even cancel and book flights within a matter of minutes. It's also great for sharing news updates, like flight changes, terminal closures, industry headlines and more. The best part? Customers can tag businesses and share photos, acting as word-of-mouth marketers without even knowing it!
Instagram – Earlier this month, I talked about the visual advantage we aviation marketing pros have. You see, our industry is an especially aweworthy one, and great photos aren't hard to come by in our line of work. Instagram makes sharing these photos a breeze. You just snap a photo of a plane, helicopter, airshow or tradeshow, upload it via your phone, add a few hashtags, and your brand can get discovered by hundreds or even thousands of potential customers in no time. It's pretty amazing.
LinkedIn – LinkedIn is a crucial platform in a few situations. The first is if your brand appeals to C-suite, higher-level professionals, like a charter airline, private pilot service or FBO. These types of higher-income customers tend to congregate on LinkedIn, and they'll be more likely to respond to posts on this platform than most of the other options. The second way LinkedIn can help is when you're actively recruiting employees. As many people who are looking for jobs turn to LinkedIn, you can use it to promote job opportunities, reach out to potential candidates or even let applicants submit their qualification right through the platform. LinkedIn also offers ads, which can be great for recruiting as well.
YouTube – Though static photos can be great, nothing compares to an engrossing story or awe-inspiring live action shot via video. With YouTube, you can upload these and more. Add your latest commercial, share customer testimonials, give customers a tour of your facilities or even take them on a ride on your most high-tech aircraft. A huge bonus? Video content is like the Holy Grail for SEO. It can help your search rankings immensely!
Facebook – Facebook is one of the oldest social networks still getting traction, but that doesn't mean it's become old hat. In fact, Facebook is a great option if you're looking to create an online community – a place where people feel comfortable asking questions, sharing reviews and communicating with other customers. It's also great for exposing you to potential leads; when current customers like your content or post on your page, their friends and social contacts see it too. That means more exposure and more potential leads. It's a win-win for everybody.
Though not a social platform per se, aviation brands can also see success by cultivating and maintaining an on-site blog. This not only helps with SEO, but it can help inform and qualify potential leads as they visit your site. Want more advice on social media or aviation marketing? Contact the Haley Aerospace team today.